Australian Die Proofs continue to sell well in Auction. Recently Grosvenor Auctions in London sold the 1960 Girl Guide 5d die proof in deep ultramarine mounted in sunken board for £780 (approx. €865 US$ 1170). It was in May 2009 that the same auction house sold the 1948 Scout Jamboree 2½d die proof for £1750 (€1925 US$ 2625) and the 1952 Jamboree 31/2d for £1150 (€1265 US$ 1725).
The Philatelic Exporter reported a few months ago that the Royal Mail destroys 25 million undeliverable items a year. This information came out in response to a Freedom of Information request when they reluctantly disclosed that it shredded 152 millions of undeliverable mail — letters, packets and parcels in the last six years. The Daily Mail reported earlier this year that 70,000 items were sent to the National Returns Centre in Belfast every day. These bore incorrect or incomplete addresses and no return address. If the contents also did not help to deliver or return the item, anything valuable is extracted and sold at auction with the profits going towards the running the centre. Therefore if sending stamps make sure you address the envelope correctly!
In another article written in The Daily Telegraph it reported that Royal Mail was forced to pay £5.1 million in compensation for lost items in the last year — equivalent of almost £100,000 per week. This article mentioned that 160 full-time staff are employed at the National Returns Centre to reunite lost letters and parcel with their rightful owners. They manage to redirect one in five items they receive.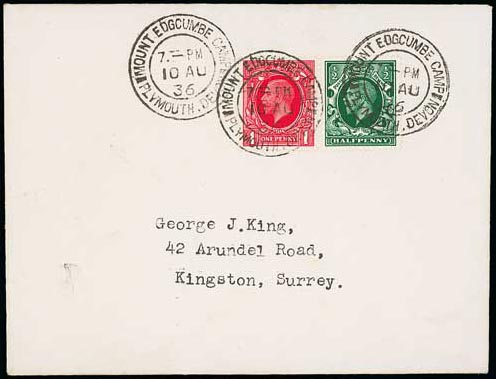 During November Argyll- Etkin offered for auction "1936 (Aug 10) Cover franked with a ½d and 1d each cancelled by fine "MOUNT EDGCUMBE CAMP / PLYMOUTH, DEVON" double ring datestamp with a third strike alongside, used at the West Country Scout Jamboree. Fine and scarce, the datestamp usually applied alongside the stamps, which were cancelled at Plymouth. Estimate £600-700". It sold for £600 (€660, US$900).